Will "Modicare" be a true Medicare or turn into another National Health Insurance Scheme?
The scheme "aims" to produce the total sum of Rs 5 lakh coverage to a BPL family. This scheme will cover to 100 million poor vulnerable families. Or the maximum transfusing into 500 million individual beneficiaries; Which is more than the population count of North America.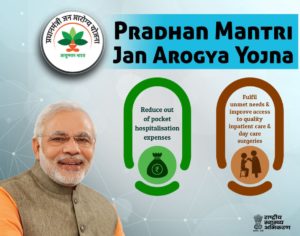 The Pradhan Mantri Jan Arogya Yojana (PM-JAY) also called Ayushman Bharat, which has been launched on September 23, 2018. The Root India Healthcare has come up with some of the opportunities and challenges ahead.
"Rashtriya Swasthya Bima Yojana" (RSBY), the much smaller memory to Ayushman Bharat launched a decade ago failed to deliver due to insufficient coverage, proved a lack of awareness among beneficiaries, and frauds  with terrified  implementations.
Ambitious Health scheme
The scheme PM-JAY "aims" to produce the total sum of Rs 5 lakh coverage to a BPL family. This scheme will cover to 100 million poor vulnerable families. Or the maximum transfusing into 500 million individual beneficiaries; Which is more than the population count of North America. The scheme is important because more than 67% of expenditure on health care is "out of pocket" that often pushing people into "poverty".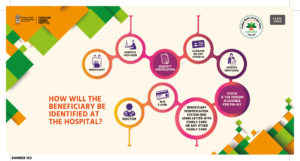 The cashless option will cover medical and "hospitalization expenses" for almost all secondary care and most "tertiary-care" procedures. The PMJAY has released 1350 medical packages covering surgery. And other medical & daycare treatments including medicines, diagnostics, and transportation.
The cost of the scheme will work on sharing basis between the Central Govt. & States with the rule of 60:40 ratio.
Will be true Medicare if implemented well?
If this scheme implemented effectively, that will have far-reaching vision consequences on the entire Indian healthcare and insurance landscape. And it will help to India move closer to the "United Nations" Sustainable Development Goal of "Universal Health Coverage".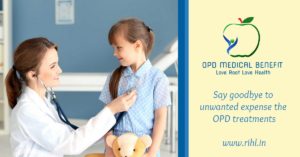 There are several interesting things that are happening to-gether. The country will get standard treatment guidelines and well-defined package tariff rate for the surgical procedures. The scheme will attract in generating large volumes of the database. The govt. of India will be able to design and offer more targeted healthcare initiatives with the power of data analytics and artificial intelligence. That will detect and monitor fraud activities, and can regulate hospitals, optimize costs and improve efficiencies. The Ayushmaan scheme will also help to the database of hospitals registered under Registry of Hospitals in Network of Insurance (R.O.H.I.N.I.) System.
Moreover, the scheme will have various effects on hospitals and allied sectors like pharma, medical devices & Equipment, and diagnostics. The success of this scheme leads to more investments and employment to generation, Therefore boosting GDP.
Will "good execution" depend on it success?
Though the Centre inject the funds into the scheme. It's the state that executes it. Most states have opted for a trust-based model over a Health scheme-led model for managing control over the cost and in determining claims.
In this trust-based model, each individual state will act for its own trust to control & manage the scheme for the claims. It will be disbursed from a created corpus from a joint effort of central and state government contributions.
But sadly most states don't have deep experience in handling claims. Hence they have to rely on third-party administrators services (TPA Services) to manage the scheme. The key for the success of the scheme will depend on "how quick the claims are settled" by (TPA) third-party administrators. Once a claim nock, TPAs will have to bear the full responsibility of settling the medical costs incurred by the patients. Since it is a cashless process, this will have to be done during the hospitalization itself.


The insurers with TPAs have been repeatedly advised by the regulator to play a keen role for the claims settlement process. And look into the selection or rejection of claims deeply.
How to make it Frauds-less health policy?
The challenging area of concern is to stop the fraud. A report by industry body CII & consulting firm PWC have observed and noticed that existing schemes have seen a significant rise in financial costs due to systemic inefficiencies and fraudulent behavior across stockholders.
This is just because of Duplication of beneficiaries, fraud claims, conversion of OPD cases to IPD cases, unnecessary procedures, showing medical management cases as daycare procedures and consultants and hospitals charging patients over and above procedure costs are some of the common frauds and corrupt practices, the report revealed out.
Root India found that the National Health Agency (NHA) has invested the significant amount of time in developing robust technology and strong protocols to identify theft.
This is where the trusts adopted by the state with little experience may face a hurdle with challenge.
While the scheme mentioned zero tolerance for frauds, it is not very much clear that "what to mitigate these risks". For instance, It has to be a challenge that how will the states deal with fraudulent claims?
Insurers told there should be a constant monitoring of the hospitals. So it can be ensured whether patient getting the benefit as per health plan. Although Insurers will monitor to hospitals with strict checks.
Do we have good hospital infrastructure?
Much of the healthcare infrastructure is concentrated in and around large metros and Tier I cities. But the picture is not so good in the case of semi-urban and especially rural areas are undeserved. Therefore this scheme will initially put pressure on large tertiary hospitals Such as Max, Medanta, Global, Jaypee, Metro, Wockheart, Fortis & other well-known hospitals where the inflow of patients will be routed.
As per the CII-PWC report, we should not forget that India would require 1.6 lakh new hospital beds, in addition to existing 13.5 lakh beds to meet the demand transit by the scheme. Wherein the new demand has to be created by the private sector also. The government should offer the incentives to private hospitals group to set up hospitals in rural & urban areas.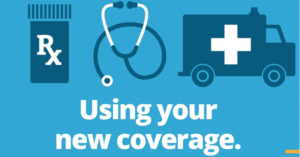 We should keep in mind that WHO reveal the recommendations of a doctor for every 1000 patient. India has a "chronic" shortage of doctors because as of now, we have one "doctor" for every 11000 patient.
This site is using SEO Baclinks plugin created by
Locco.Ro