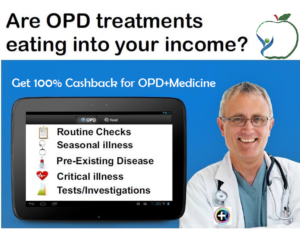 Classic OPD Plan
Option A: Maximum 12 OPDs usage@Rs. 500 plus reimbursement of upto Rs. 3000 for Medicine bills.
Option B: Maximum 15 OPD usage@Rs.500/- per visit
ADDITIONAL FEATURES : This wonderful program covers any MBBS/MD/MS Doctor with prescribed medicine for existing or seasonal disease. You may enjoy all unwanted expenses coverage AnyDoctor, Anywhere in India.
OTHER HIGHLIGHTS
No Medical Check required. Add Extra members@550
No Age Bar / Tax Saving (u/s 80D) / Doctors MBBS or above
Benefit on HIV Treatment / Cancer Treatment/ Critical illness
Renewal Bonus : Absolutely Free Health Check ups for primary member only.
Note : Free Health Checkup is available with family floater only.          Rs. 4999/-  Buy Now 
Disclaimer: RIHL products are not insurance products or insurance offerings. The RIHL promotes preventive health care via offering various health products; and services. Mainly from the third parties who have expertise in providing such services.  Root's MyHealthGain is primarily offers OPD medical plans upto 100% Cashback, which allow coverage Doctor's Fee & Subscribed medicine.
The Root India member may get tax deduction to the extent of Rs. 5,000/- for Preventive Health plan.  The benefit of Section 80D is over and above the limit of Rs. 5,000/- . This prescribed under Section 80C/80CCC of the Income Tax Act, 1961. This benefit is available for expenditure incurred towards OPD treatment for self, spouse, dependent children and parents of the member having RIHL health plan. RIHL appreciates feedback from its members (via feedback section and contact us section of this website) & ensures the resolution to all fair requests and does not encourage use of any public media/forum with respect to any issues with the services offered to its members.
This site is using SEO Baclinks plugin created by
Locco.Ro