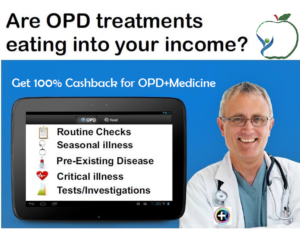 Classic – OPD Treatment Plan                         Starting Price: Rs. 4999.oo
The consultation fee will be reimbursed Upto Rs. 500 per visit subject to 12 OPD
Maximum Limit for Medicines up to Rs. 3000 annually.
FEATURES
Doctor's fee reimbursement is applicable on any MBBS/MD/MS Doctor across the Country.  All prescribed medicine's expense shall be reimbursed in single or multiple claims subject to limit available.
OTHER HIGHLIGHTS
No Medical Check required. Add Extra members@550
No Age Bar / Tax Saving (u/s 80D) / Doctors MBBS or above
Benefit on HIV Treatment / Cancer Treatment/ Critical illness                            

This site is using SEO Baclinks plugin created by
Locco.Ro